A delegation of teachers and students from CY Cergy Paris University (fr. CY Cergy Paris Université) visited Kaunas University of Technology. The visit took part at the recently opened premises of KTU Library, dedicated to ECIU University and blended learning environment, as well as in KTU Center of smart cities and infrastructure.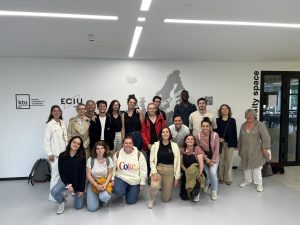 During the meeting, the guests were introduced to ECIU University, its values, vision, and the innovative method of challenge-based learning. ECIU University sets an example to other European alliances as an open ecosystem, promoting international cooperation and the creation of an inclusive community with a strong European identity.
French students and teachers had expressed great interest in the challenges currently offered by KTU. Current challenges are related to green mobility solutions, reducing energy consumption and CO2 emissions or creating a friendly environment for pets, their owners and the public. These challenges are now open KTU and ECIU students to apply. Some of the challenges are open to staff members of KTU.
Challenges offered by KTU are available here.
All open challenges can be found here.